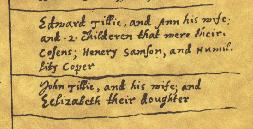 Above (from list of Mayflower passengers): "Edward Tillie, and Ann his wife; and 2 childeren that were their cosens; Henery Samson, and Humillity Coper
John Tillie, and his wife; and Eelizabeth their daughter"
…Mr Carver and his wife, dyed the first year, he in ye spring, she in ye somer, also his man Roger, and ye litle boy Jasper, dyed before either of them, of ye common Infection. Desire Minter returned to her freind & proved not very well, and dyed in England. His servant boy Latham after more than .20. years stay in the country went into England; and from thence to the Bahamy Ilands in ye West Indees; and ther with some others was stavred for want of food. His maid servant maried, &c dyed a year or tow after here in this place. His servant John Howland maried the doughter of John Tillie, Elizabeth, and they are both now living; and have .10. children now all living and their eldest doughter hath .4. children And ther .2. doughter, one, all living and other of their Children mariagable. so .15. are come of them…
…Edward Tillie, and his wife both dyed soon after their arrivall; and the girle Humility their cousen, was sent for unto Ento England, and dyed ther But the youth Henery Sampson, is still liveing, and is maried, & hath .7. children.
John Tilley and his wife both dyed, a litle after they came ashore; and their daughter Elizabeth maried with John Howland and hath Isue as is before noted…
Source: Bradford, William, Of Plymouth Plantation 1620-1647.
The Mayflower Compact
"In ye name of God, Amen. We whose names are underwritten, the loyall subjects of our dread soveraigne Lord, King James, by the grace of God, of Great Britaine, Franc, and Ireland king, defender of the faith, etc.
Haveing undertaken, for ye glorie of God, and advancemente of ye Christian faith, and honour of our king & countrie, a voyage to plant ye first colonie in ye Northerne parts of Virginia, doe by these presents solemnly & mutualy in ye presence of God, and one of another, covenant & combine our selves togeather into a civill body politick, for our better ordering & preservation & furtherance of ye ends aforesaid; and by vertue hearof to enacte lawes, ordinances, acts constitutions, & offices, from time to time, as shall be thought most meet & convenient for ye generall good of ye Colonie, unto which we promise all due submission and obedience. In witnes wherof we have hereunder subscribed our names at Cap-Codd ye 11th. of November, in ye year of ye raigne of our soveraigne lord, King James, of England, France, & Ireland ye eighteenth, and of Scotland, ye fiftie fourth. Ano: Dom. 1620."
John Carver, Edward Tilly, Digery Priest,
William Bradford, John Tilly, Thomas Williams,
Edward Winslow, Francis Cooke, Gilbert Winslow,
William Brewster, Thomas Rogers, Edmund Margeson,
Isaac Allerton, Thomas Tinker, Peter Brown,
Miles Standish, John Rigdale, Richard Bitteridge,
John Alden, Edward Fuller, George Soule,
Samuel Fuller, John Turner, Richard Clark,
Christopher Martin, Francis Eaton, Richard Clark,
William Mullins, James Chilton, John Allerton,
William White, John Craxton, Thomas English,
Richard Warren, John Billington, Edward Doten,
John Howland, Moses Fletcher, Edward Leister
Stephen Hopkins John Goodman,
Source: Bradford, William, Of Plimoth Plantation (Bradford recorded the text and Nathaniel Morton, nephew of Bradford, recorded the names).